The recent pandemic that the whole world succumbed to set the ball rolling in favor of the remote work model. Earlier, remote working meant doing part-time or freelance gigs. Real work meant going to the office daily, beating the early morning rush and intolerable traffic. However, post Covid, there has been a paradigm shift in the way we looked at and accepted the remote working model. Right from the top dignitaries of the nations to corporate offices to educational institutions, everybody managed their work remotely. The comfort of the virtual space was irresistible. Since then, remote working has changed from being an alternative to a mandatory work model.
According to a recent report by the Owl Labs study, around 74% of remote employees feel that their chances of leaving their company are less with the remote work option. Around 55% say they were more productive working from home than at the office.
Source: Owl Labs 
According to a Stanford report, in 2017, there was a 50% drop in resignations in organizations that extended remote work opportunities.
Top Companies are adopting Remote Work Culture
Taking these factors into consideration and with an aim to tap into the global talent pool, many tech giants of the world such as Google, Facebook, and Twitter have gone ahead with the remote work model even after the effects of the pandemic diminished. Earlier this year, Parag Agrawal, the new CEO of Twitter, had announced that he'd continue the option of working remotely "forever,". Since the pandemic has upended the entire world, even small companies with fewer resources and slow-moving cultures are shifting towards the remote trend. There are a few leading companies that are shifting towards a remote work culture for the jobs that can be done remotely, the list includes Dropbox, HubSpot, Quora, Meta, Reddit, Shopify, Skillshare, Slack, Twitter, Vista, VMWare, SAP, 3M, etc. (Source: flexjobs).
According to a recent LinkedIn poll conducted by Global Employees, around 74% of people prefer working from home. 19% preferred the hybrid work model and a mere 7% preferred on-site work.
As an authority in the remote work culture for over a decade, we took the liberty to share a few pros and cons that would help you decide why you should or shouldn't opt for the remote work model.
What are the biggest benefits to Remote Working?
Source: Buffer
Remote work bridges the gap between the leading companies and global talent
Remote work eliminates geographical barriers. Up until recently, globalization only was restricted to trades and goods. However, with the boom in the digital economy, many leading companies are looking to tap into the talent pool beyond their geographical borders. Remote work is the catalyst that has the potential to unlock opportunities for talent across the globe. It has the potential to boost employment opportunities for people with disabilities. A globally distributed workforce reduces employment costs as well as hiring talent from lesser developed parts of the world often means lesser tax issues and lower wages.
Improved Productivity
According to a recent report by the Owl Labs study, 90% of the workforce said their productivity improved since they started working from home. Another interesting report by Buffer suggests that 99% of people prefer to work remotely for the rest of their life, even if it was just part-time.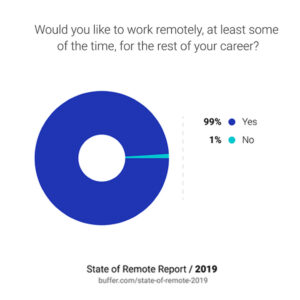 Source: Buffer
A survey by CoSo Cloud stated that 77% workforce reported improved productivity while working from home. Employees today are looking for more freedom and flexibility at their work front. With flexible work hours, freedom from stressful office politics, and from the tortuous daily commute, employees can focus better on the tasks at hand. Remote work extends optimal work experience, building a culture of efficiency and high performance among employees.
Source: TalentLyft
Reduced Infrastructure Costs
In the 2021 Gartner survey, 74% of CFOs stated that they were planning to shift if not all then at least some of their workers to permanent remote work positions. Gartner Finance practice vice president describes their decision as "an opportunity to realize the cost benefits of a remote workforce". So how does remote work help reduce the infrastructure costs?
On-site work incurs heavy costs in the form of office rents, internet, electricity, stationery supplies, utilities, cleaning services, etc. With remote work, employers can be free from these costs and spend more on data security, software, tools, etc. that are necessary for the good running of the projects and businesses.
Better Retention
With the remote work model, employees are now able to work at their own convenience from the comfort of their space that too with the leading companies. With no worries about timely punch-ins and extended office work hours, employees can contribute better in less time and this, in turn, guarantees better retention. A recent survey report by Owl Labs states that employees working from home are 70%% happier and stay in their jobs for longer periods. These remote workforces reported more focus, less stress, and an improved work-life balance.
Work-life balance
With remote work, people are now able to manage their personal and  professional lives efficiently without losing sight of priorities. No more procrastinated travel plans or family get-togethers!
Reduced Carbon Footprint
With fewer vehicles on the road and lesser use of air conditioning systems in large office spaces, remote working can hugely contribute to a greener environment and economy. Per a report by The Global Workplace Analytics, in the year 2020, remote working withdrew 600,000 cars off the road for a year. Another report stated that there has been an estimated 85% drop in carbon emissions in the year 2021 due to remote work. Studies also reveal that by the year 2028, 73% of all departments will go remote thus reducing the carbon footprint in a significant way.
Is there any flipside to remote working? 
Every positive has a negative too and the remote work model is not infallible enough to fall outside the dualities of life.
Source: Nextiva
Ever-increasing salary demand
Now that the world is open, demand for resources has jumped through the roof. For example, in India, the normal hike expected is over 50% now and, in some cases, even 100% is expected.
Surging demand in the job markets and lucrative remote work opportunities have encouraged the workforce, especially the tech experts, to switch jobs in record numbers for better prospects, higher salaries, profit shares, etc.
Leading IT companies such as Infosys recorded an attrition rate of 27.7% in the March quarter of this year which is sharper than the 10.9% in the year earlier. Another top IT firm, TCS clocked an attrition rate of 17.4% in the March quarter while Wipro clocked a 23.8% attrition rate. Data Source: India.com
Difficult collaboration and communication
With no real contact with the team, sometimes, remote work can be a little difficult. Things that could have been communicated and collaborated in an easier and more understandable way may turn out to be difficult and tedious. Employees may sometimes feel lost due to a lack of one-to-one guidance and training.
Per a survey report by Buffer, 20% workforce found it difficult to contribute or communicate effectively on virtual calls and meetings. Overlapping communication was another major complaint of many employees.
A lonely affair
With no office banters and coffee break chats, remote work can sometimes turn out to be a lonely affair. The friendships and bonds that are created in conventional office space may be missed in a remote work environment.
Distractions at Home
Working from home can be a cause for many distractions, especially during virtual meetings. Screaming children, barking dogs, ringing doorbells, household chores, the list is endless. Unless you have a dedicated home workspace and priorities set right, remote working can be the cause of imbalance on both personal and professional fronts. The focus an office space provides may not be easily available working from your home.
Security concerns
Beyond the walls of the office, data security can be a tricky task. Even if you lock and encrypt your employees' devices through VPNs and other encryption software, accessibility to your data will be still a risk. A spouse or a child may use the device that is configured only for office purposes, and this may sometimes breach security.
Conclusion
One fact that has hit home during the pandemic is that life is short. Mental health, family, happiness, traveling, and comfort have gone up on the priorities list. Salary and career growth are not enough to lure talent anymore. Recently, Ian Goodfellow, Apple's Director of Machine Learning, quit the company as the company asked the staff to return to the office. This iterates the fact that flexible remote working culture has gone up the ladder of benefits employees are seeking from the companies.
Keeping these factors in mind, it's up to the leadership across businesses to be more strategic and proactive about their future working culture. Chalking out a long-term strategy that would align with the needs of both businesses and employees alike will create a new wave of inclusive, efficient, and productive work culture in the years to come.